red velvet bomber and new black booties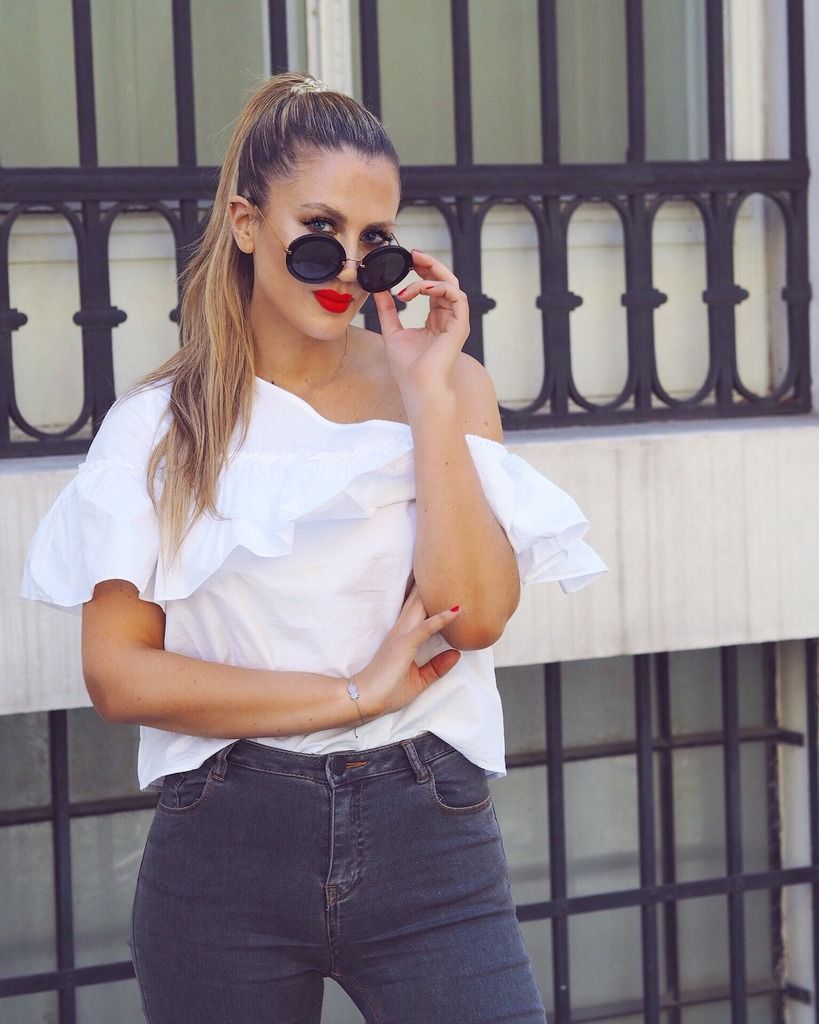 OK! Also dieser Post ist definitiv nur meinen neuen schwarzen Booties gewidmet. Ich habe euch ja schon in
diesem Beitrag
erzählt, wie unfassbar ich meine schwarzen Stiefel liebe. Es war quasi eine kleine Liebeserklärung an meine Lieblingsschuhe. Ich habe euch auch erzählt, dass ich mir echt schon Sorgen mache, falls diese Schuhe jemals kaputtgehen. Ich bin soooo happy, weil ich jetzt endlich einen Ersatz gefunden hab, JUHUUUU!! Letztens bin ich mal wieder einer meiner Lieblingsbeschäftigungen nachgegangen: Bei ASOS die Kategorie NEW IN durchforsten :D Und da springen mir diese wunderschönen schwarzen Boots ins Auge, sie sehen meinen sehr ähnlich, aber sind doch ein bisschen anders: das Material ist nicht aus Rauleder sondern glattem Leder, und sie sind auf der Seite offen. Ihr könnt mir glauben, ich habe bei dem Anblick gedankliche Luftsprünge gemacht :))) Ich trag meine 'alten' Stiefel ja wirklich viel zu oft, und jetzt habe ich so eine gute Alternative, vor allem für den Frühling, Sommer und Herbst, weil durch die Aussparungen auf der Seite kann man sie im Winter schlecht anziehen. Ich entschuldige mich jetzt schon dafür, aber diese neuen Babies werdet ihr bestimmt sehr oft am Blog sehen. Sie haben einen ganz besonderen Platz in meiner Wohnung bekommen, gleich neben den 'alten' Boots, damit die sich ja nicht benachteiligt fühlen :)
Die Bluse habe ich bei meiner virtuellen Shoppingtour auch gleich mitgenommen (zusammen mit dieser
hier
). Mir gefällt sie gut in diesem Look, ich freu mich aber schon sie mit blauen Jeansshorts im Sommer zu tragen :) Die Jacke habe ich letztes Jahr im Herbst gekauft, sie euch aber noch nicht am Blog gezeigt. Ich liebe den Bomberschnitt und roter Samt ist einfach ein Eyecatcher, oder? Ich habe euch die Bluse und Boots unten verlinkt :)
Die Fotos haben Anna und ich am Samstag gemacht, wir hatten so einen schönen Tag. Es war der perfekte Start in den April. Wer meine
Instastory
verfolgt, hat vielleicht schon gesehen, dass wir im Harvest Bistro (ein veganes Cafe am Karmeliterplatz) brunchen waren. Ich war schon einmal mit Filip zum Abendessen dort, und war sooo begeistert. Wir hatten damals ein Schmalzbrot und einen Döner (mit veganem Tzaziki OMG!!!), und es war einfach so lecker, dass ich seitdem eigentlich ständig davon träume wieder hinzugehen. Leider haben sie aber die Öffnungszeiten geändert, und unter der Woche nur mehr bis 17 Uhr offen. Der nette Besitzer hat uns aber am Samstag erzählt, dass sie vielleicht doch wieder Abends aufsperren, ich hoffe sehr. Als mich Anna gefragt hat ob wir dorthin brunchen wollen, hab ich natürlich mit Begeisterung JA geschrien :) Und ich kann euch versichern, der Brunch war genauso gut, es gibts sehr viel Auswahl und wir haben uns für 16,60 EUR die Bäuche sowas von voll geschlagen. Wir werden sicher bald wieder hingehen!
ENG
: OK! So this post is dedicated to my new black booties, I found the other day while browsing the NEW IN section on ASOS. I told you
here
already how much I love my black boots and that I'm already worried what I'm gonna do when they fall apart. So you can imagine how happy I was when I found this alternative. They look so similar but they're a bit different, I love the unexpected cut-outs and the matte leather. They're perfect for spring, summer and autumn.
I also added this blouse (together with
this one
) to my cart and checked out quickly. I like it a lot in this look, but can't wait to wear it with blue jeansshorts in summer. The velvet bomber is such a nice eyecatcher, I bought it last autumn, but never showed it to you on the blog. I linked the blouse and boots for you below :)
Anna and I took these pictures on Saturday, we had such a good time, it was the perfect start into April. If you follow my
Instastory,
you have already seen, that we went to Harvest Bistro (a vegan cafe on Karmeliterplatz). I went there once with Filip, and we tried the vegan schmalzbread and döner, and loved it so much. The brunch was superdelish as well, we ate sosooo much for just 16,60 EUR and will definitely come back soon!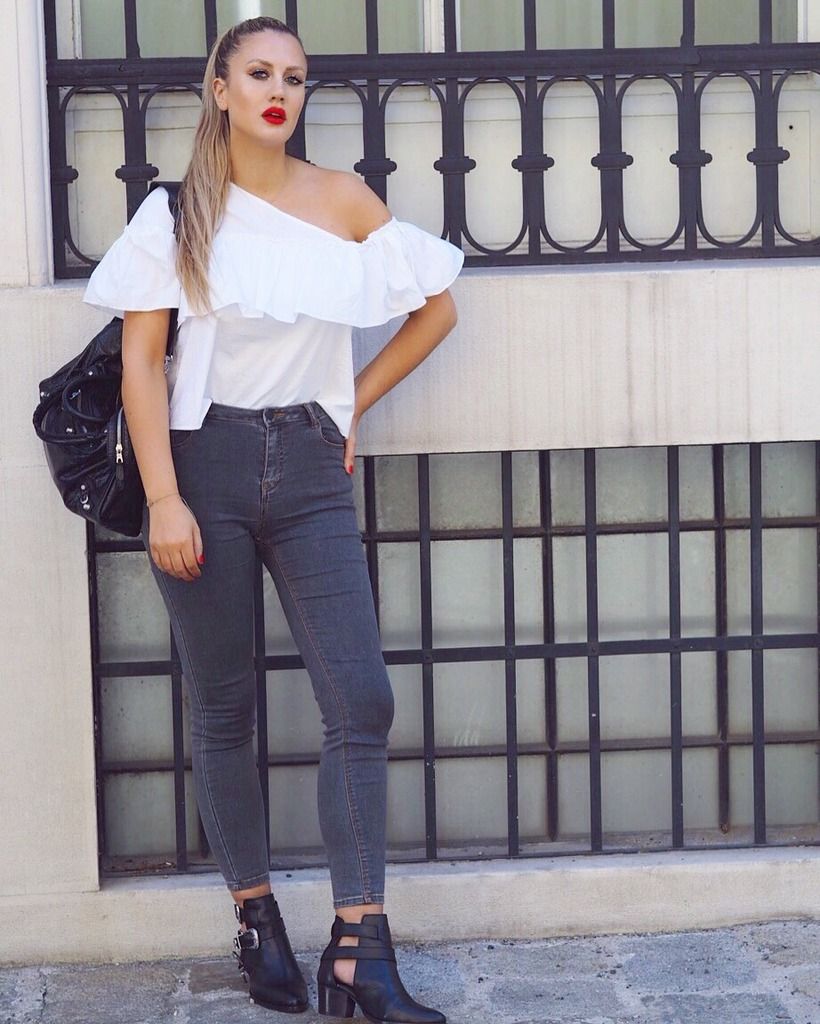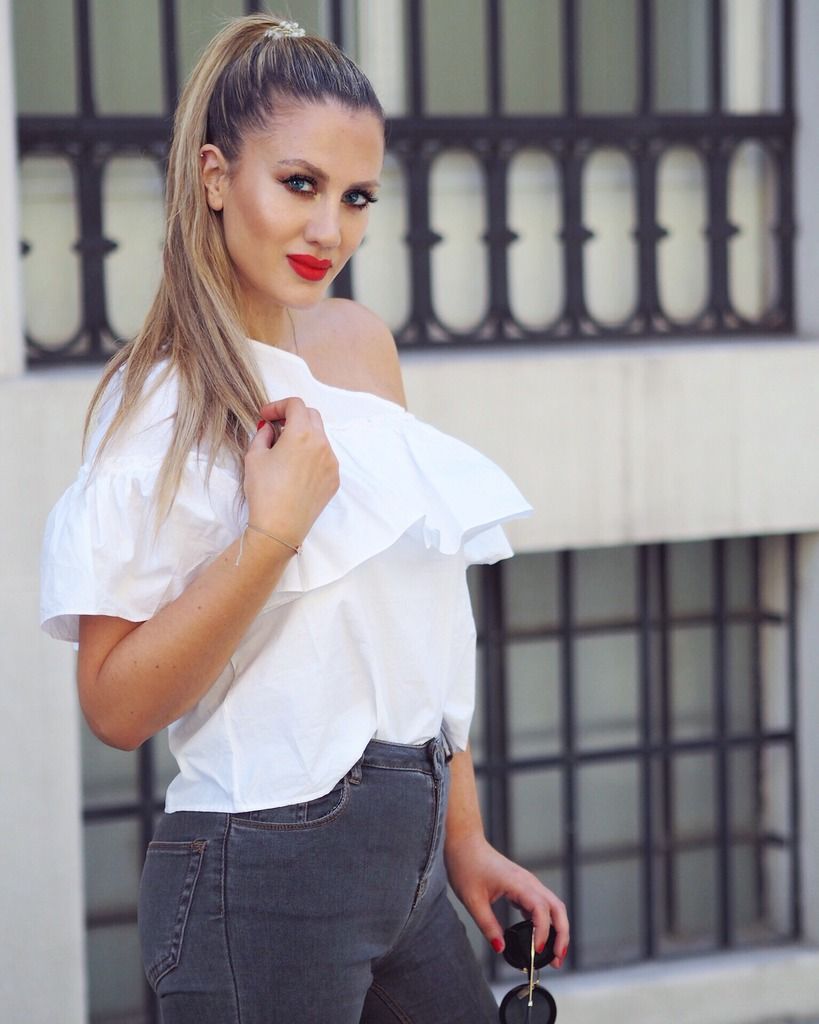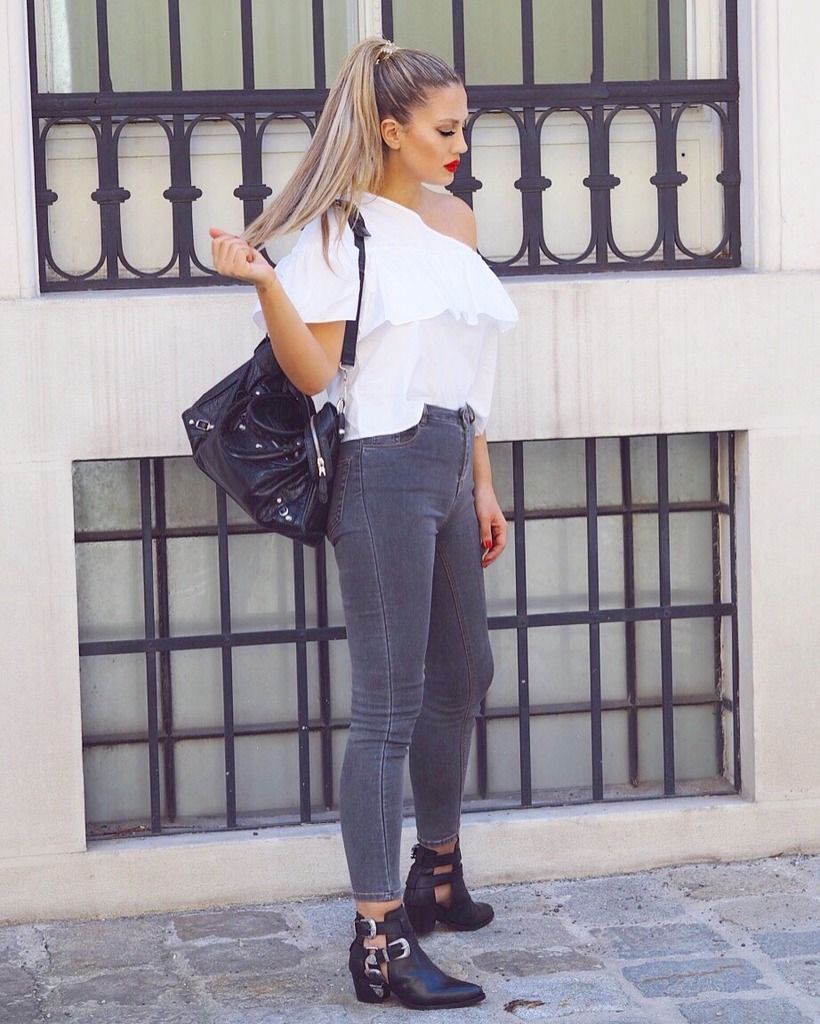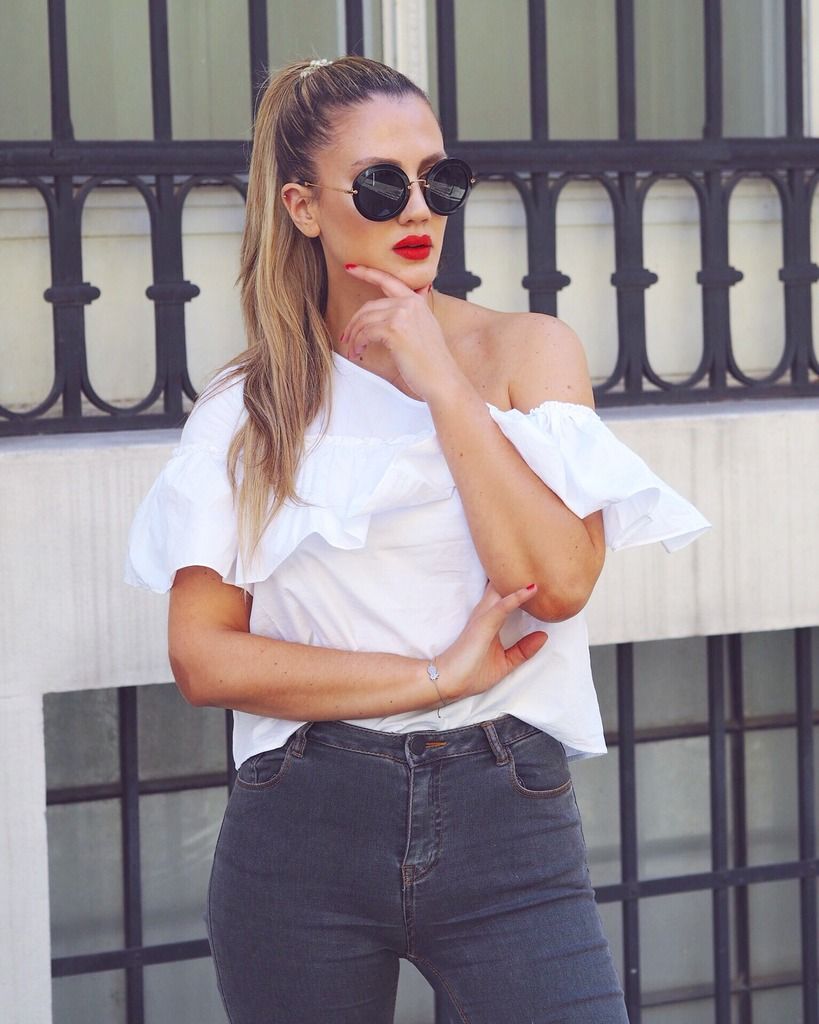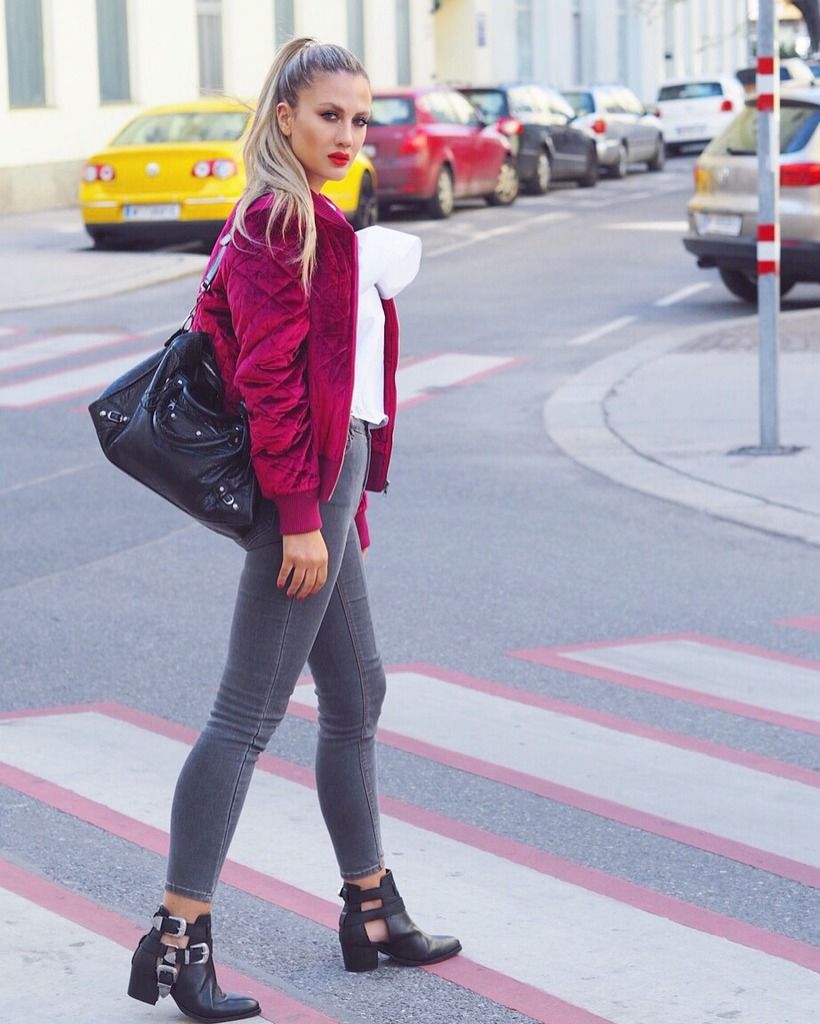 Blouse
NOISY MAY
Bag BALENCIAGA
Sunglasses MIU MIU
Bomber Jacket BOOHOO
Jeans BRANDY MELVILLE