Ich lache ja nicht sehr oft auf Fotos - ich weiß!! Aber irgendwie gefällt mir das bei mir selbst nicht - bei anderen sieht das so gut aus, die haben einfach ein perfektes Zahnpastalächeln - das habe ich leider nicht. Aber manchmal, wenn der Wind leicht durch meine Haare weht (da bin ich dann nämlich immer voll im posing drin), und ich mit meiner lieben Anna shoote, und sie hinter der Kamera gerade voll ausflippt und schreit: 'Das sieht jetzt so gut aus! Jaaa, bleib genau SO!' (sie ist Italienerin, also sehr temperamentvoll meine Süsse), dann muss ich so lachen, und dann entstehen genau diese spontanen Lachfotos die mir gefallen.
So gekünstelt lachen sieht bei mir eben nie gut aus, da muss der Moment schon passen :D Generell sagt man mir oftmals ich schaue böse - 'resting bitch face' heißt das ja heutzutage - obwohl ich eigentlich das Gefühl habe, dass ich normal schaue und in dem Moment auch glücklich bin. Anscheinend ist mein Gesichtsausdruck nicht mit meinen Gefühlen verbunden, anders kann ich mir das nicht erklären. Also falls ihr mich jemals auf der Strasse seht, und ich schaue eventuell böse, ich bin es nicht!! Ihr könnt mich ruhig ansprechen und ich würde mich mega darüber freuen, ich bin nämlich echt selten bis garnicht schlecht gelaunt :)
So, kommen wir zum Look: ich habe diesen Playsuit letztes Jahr im Sommer entdeckt, und ich war hin und weg. Ich war so verliebt, dass ich mir gleich auch noch den passenden Body dazu gekauft habe, zeige ich euch ein anderes Mal. Er ist von der Marke
KISS THE SKY
und ich liebe deren Sachen. Sie sind nämlich alle sehr boho-inspired, und ihr wisst ja, das lässt mein kleines Hippie Herz höher schlagen. Ich habe mittlerweile schon mehrere Teile von der Marke, und mag sie alle sehr gerne.
ENG
: I know I don't smile a lot in pictures. The reason is I don't like it. There are other people who have the perfect smile, not me. But sometimes when I'm shooting with my sweet Anna, and the wind is blowing through my hair (this is the moment when I'm totally into posing), and she is screaming: "This is amazing!! Stay exactly like THIS! YEEESS!" (she's Italian so you can imagine her temperament), I have to laugh so hard, and exactly then, these smile pictures happen. And I like them, but just because they are spontaneos and not fake. In general people tell me sometimes I look grumpy, I guess you say 'resting bitch face' nowadays, but in fact I feel normal and happy. So maybe my face is not connected to my feelings, it's weird. So if you ever see me walking on the streets of Vienna and I look grumpy, I can tell you, I'm NOT! You can cross the street and say "Hi" I would be happy about it, I'm not a moody person at all:)
So, about my look: this playsuit from
KISS THE SKY
was love at first sight. I was actually so in love, that I've also bought a body in velevt blue from the same brand, I will show you soon. I love the collection of KISS THE SKY, it's so boho-inspired and you know I'm a sucker for this style. I already purchased many pieces of the brand, and I'm superhappy with them.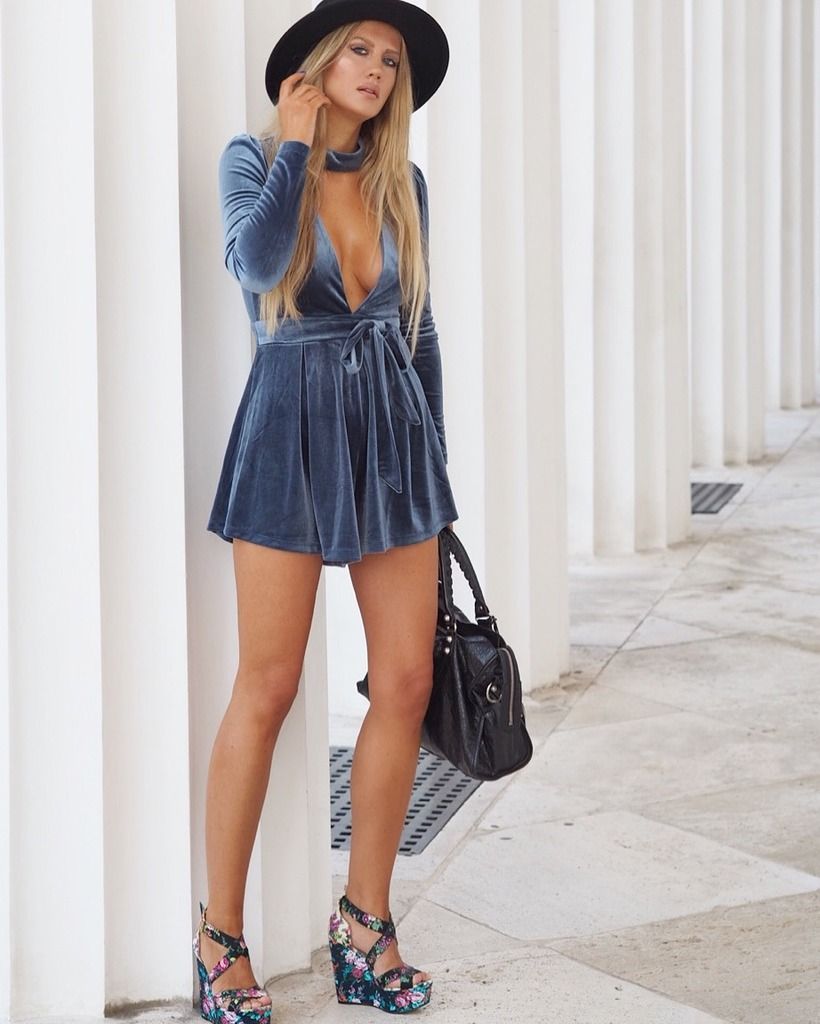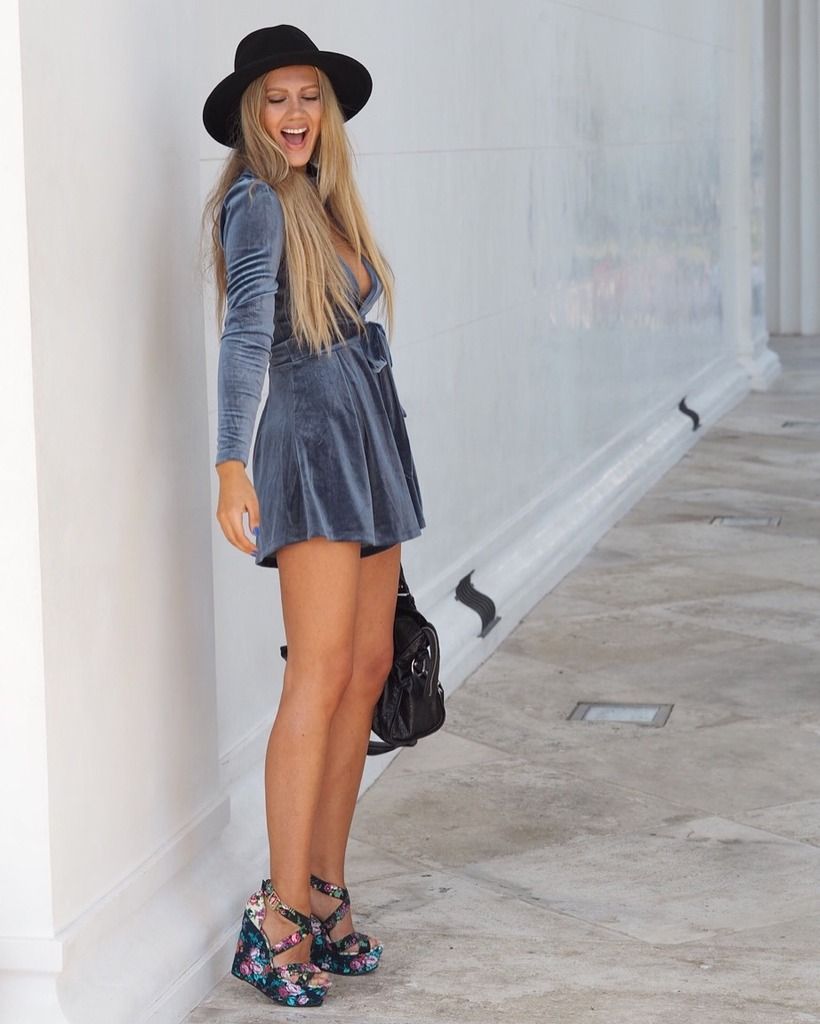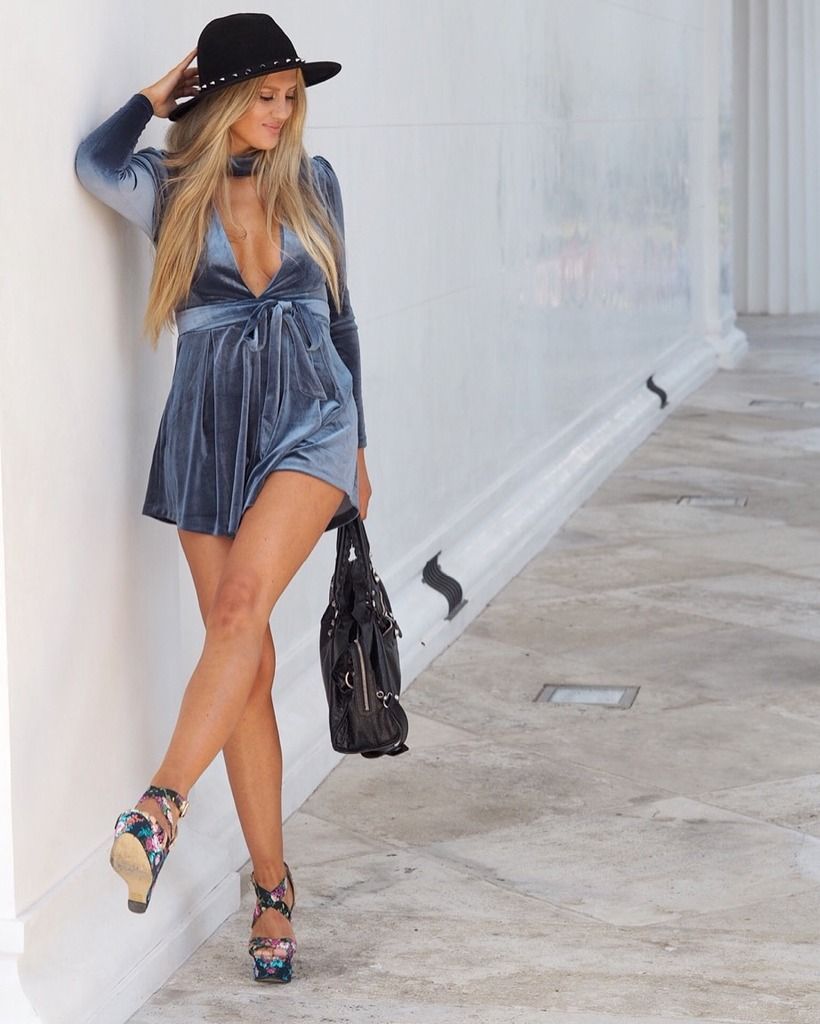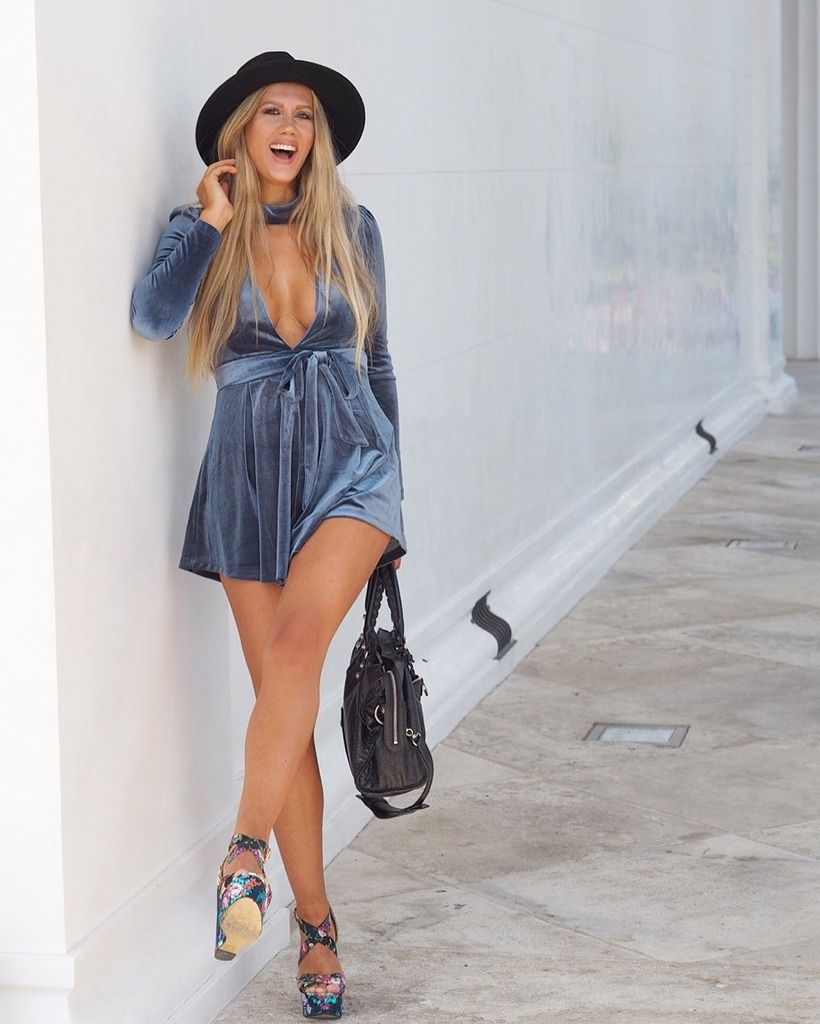 pictures Anna Lorena Verlezza
Bag BALENCIAGA
Wedges ASOS
Hat ZARA